Lupine Farm offers riding lessons for all ages and experience levels for students age 6 and up in a welcoming, knowledgeable and professional setting. Lessons are offered in semi-private and small group options, available primarily on weekday afternoons and Saturday mornings. Lessons with Lupine Farm involve a well-rounded education for a full horse experience. In addition to riding time, lessons include grooming, tacking up, and safely taking care of your mount when you are finished in the arena.
$45 semi-private (2 or more riders) – one hour

$45 private- half hour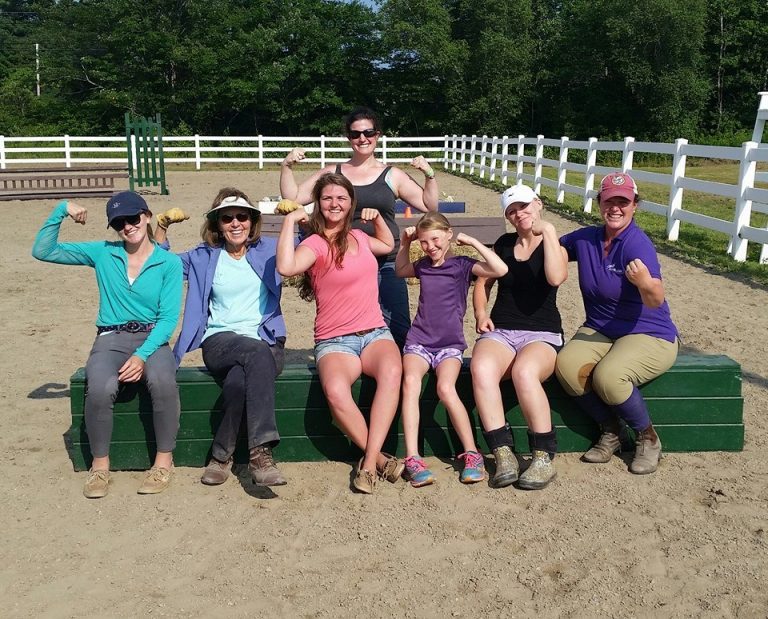 Lupine Farm offers a vaiety of clinics for a range of skill levels throughout the year. Clinics can offer students additonal knowledges, skills, experiences, and reinforce fundamentals. There is never an end to growing your knowledge and love of horses. Clinics can offer a chance to hone your skils, or venture into a new arena in horsemanship, such as our previously held jumping clinic. Special guest clinics are also offered here, such as our previous clinics with renowned horsewoman and Olympic Gold Medalist, Melanie Smith Taylor.
If you share our love of horses then Lupine Farm Summer Day Camp is the place for you.  Each camp day will run from 9-3:30. Campers will be evaluated on day one and matched with a suitable mount for the week to ensure a safe and productive week of riding and learning.  Camp will include one or two mounted lessons a day, as well as lessons in stable management, general horse care, arts and crafts, and gymkhana (games with horses). A week at Lupine Farm Camp will foster a love of horses as well as a sense of responsibility as students will be involved in all aspects of caring for their trusty four-legged friends. Emily hires and trains a number of talented young assistant instructors and counselors to help run the summer camp weeks and summer lesson program at the farm. The camper to counselor ratio is always excellent to ensure the most fun, safe, and educational week.
*Camp sessions will run 9am – 3:30pm each day. Family is invited to attend a riding demonstration on Friday afternoon at 1pm and camp ends after the demo.
Lupine Farm Summer Day Camp
2020 Dates
1st Session: June 29-July 3 (beginner/intermediate)

2nd Session: July 13-17 (intermediate/teen)

3rd Session: July 27 – Aug 2 (horse show camp)

4th Session: August 3-5 (3 day beginner)

5th Session: August 10-12 1:30pm-4:30pm (camp for young at heart!)
Lupine Farm Summer Day Camp
2020 Rates
Full sessions $375 per week.  Limited to 10 campers per week ages 7-17.  $75 non-refundable deposit required. Balance due first day of the month in which your camp takes place.

Show camp $425. 3-day camp $225 (3 full days). 

Adult camp $150 (3 half days). 
*$25 sibling discount for families with more than one horse crazy kid 
*Additional Fee of $50/week applies for early drop off or late pickup. Talk with Emily for details.
Lupine Farm offers specially chosen horses and ponies that are perfectly matched to a variety of riders' unique needs and skill sets. Our lesson horses and ponies truly are the heart of our program.