Meet Our Horses at Lupine Farm in Vassalboro, ME
We love all of our lesson horses and ponies and they really are the heart of our program at Lupine Farm. Any heights listed are approximate since we haven't measured most of them in years — ages, too, since most of them are timeless! Many of these horses and ponies are available for onsite half lease for riders in our lesson program. Most of them have some degree of show experience. Ask about our end of year lease specials to reserve your favorite horse for lessons and show season 2022 or just for the winter lesson series! *(priorities are given to 6 and 12-month leases over month to month leases)
The Lupine Farm Collection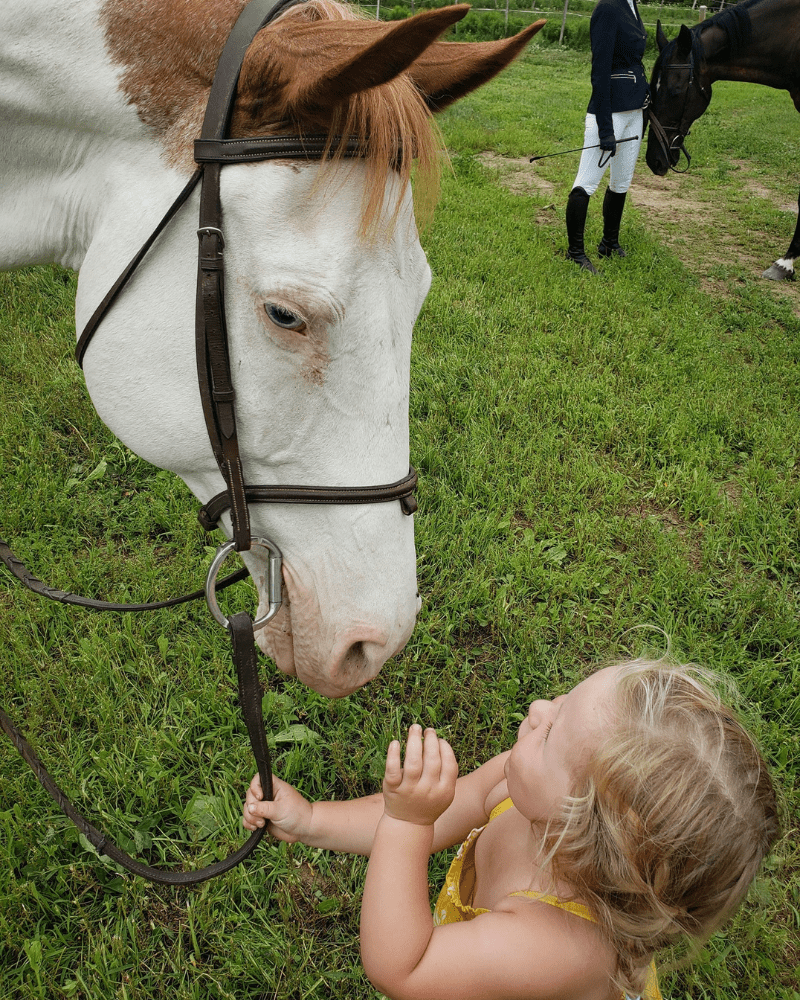 Dr. T -"Cody"
Cody is an 18 yo, 15h pinto gelding with a wonderful mind and a lot of talent, too! Safe and quiet enough for the newest rider, he will also pick up the tempo and gamely tackle a course of fences for the more experienced rider. Always quiet and pleasant at home, at shows, on the trail, and in the barn, he is an easy favorite. Look for Cody in an episode of Maine Cabin Masters from May of 2020! Cody is currently available for half or full lease.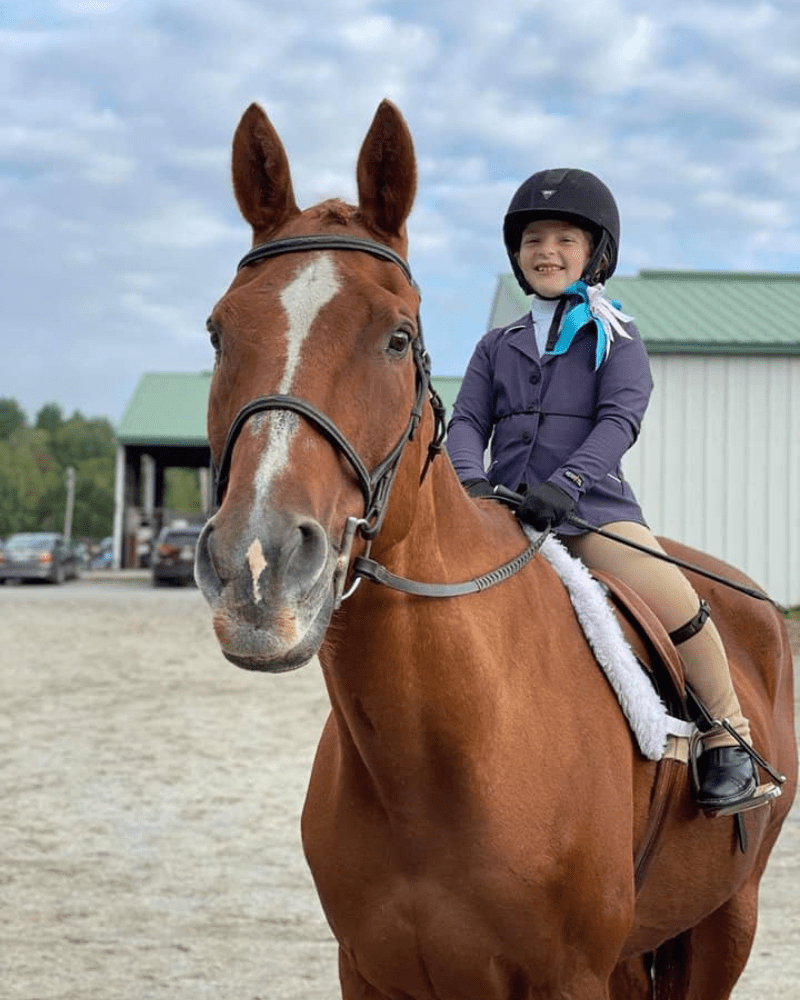 Luck of the Draw- "Remmie"
Remmie is a 16.1h, 27 year old rock star of a gelding. He makes learning fun and easy and helps his rider shine. He has had great success over the years from w/t poles through to 2'6 on the MeHJA circuit and is utterly unflappable. He is retired to walk/trot lessons with a wee bit of canter now that he is 27, but he doesn't realize how old he is and still gets chipper if pointed at a cross rail. Look for Remmie in an episode of Maine Cabin Masters from May 2020! Remmie is not available for lease.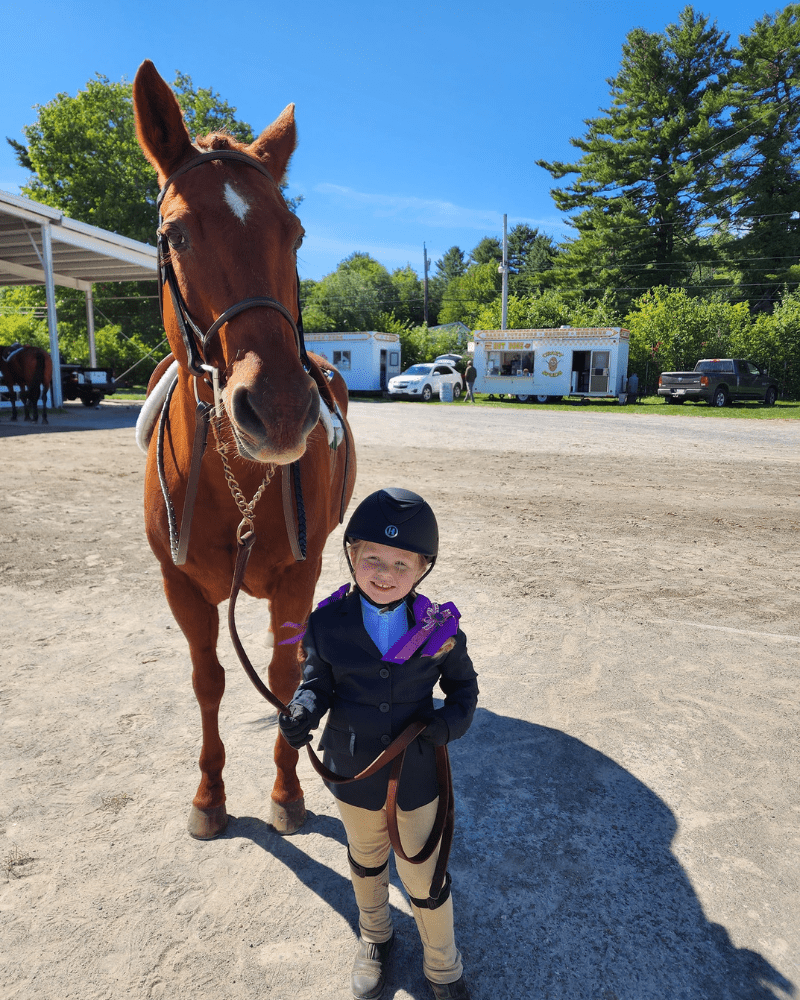 Red Headed Daisy- "Daisy"
Daisy is 25 year old registered AQHA mare. At 14.3h, she is a hony. She is also an LF original and an all time favorite of many riders, including Maggie and Willa. A veteran of lunge lessons for littles, she has the world's smoothest trot and is also awesome on trail rides. Daisy is not available for lease.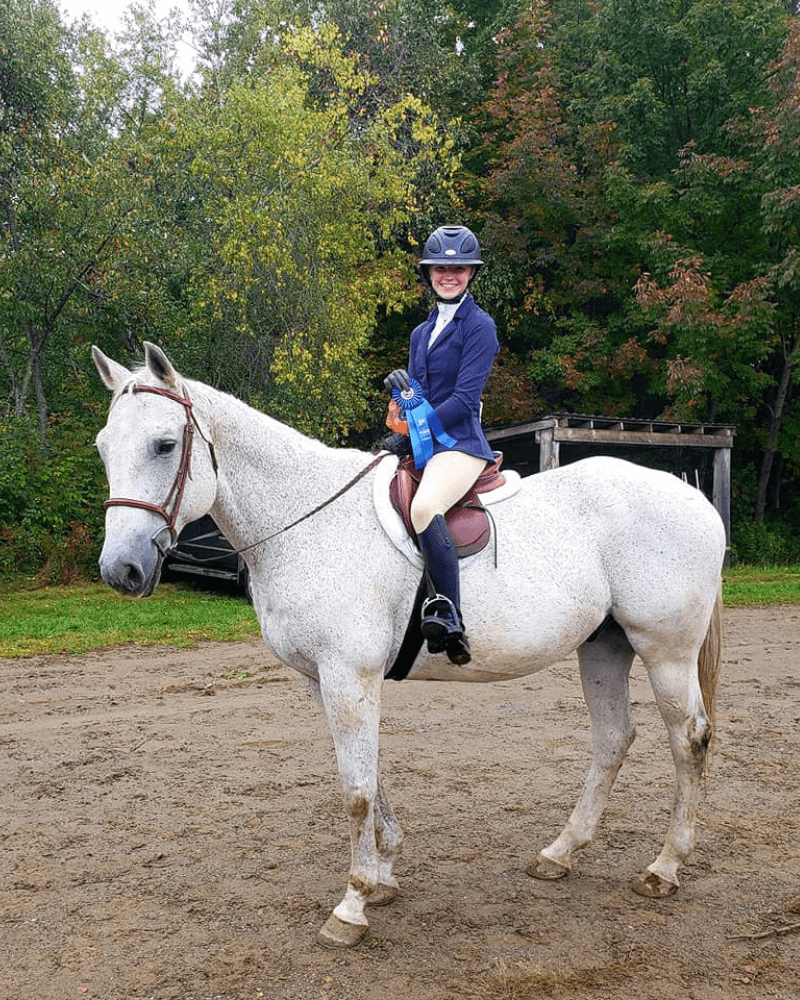 Easy Like Sunday Morning - "Lover"
Lover is a 16.1h, 16yo lovely big bodied gray gelding who joined us in the fall of 2021 after working in NYC for the summer. He is an absolute favorite in the lesson department and a nice option walk, trot, canter, and over fences riders. Lover is available for half lease.
Captain Underpants - "Tank"
Tank is a ridiculously cute pinto pony who basically looks like somebody took a big horse and shrank him down. Originally from Iowa, Tank has a lot of trail miles and even worked hauling logs from the woods. He is also a walk/trot poles king and took Elliott through his first full season competing. When he isn't booked for show season with one of our own kids (Willa and Maggie are in line!), he spends summers at a lovely girls camp in Maine. He is great on the beach and also at evading capture by anyone other than Elliott. Tank is not available for lease.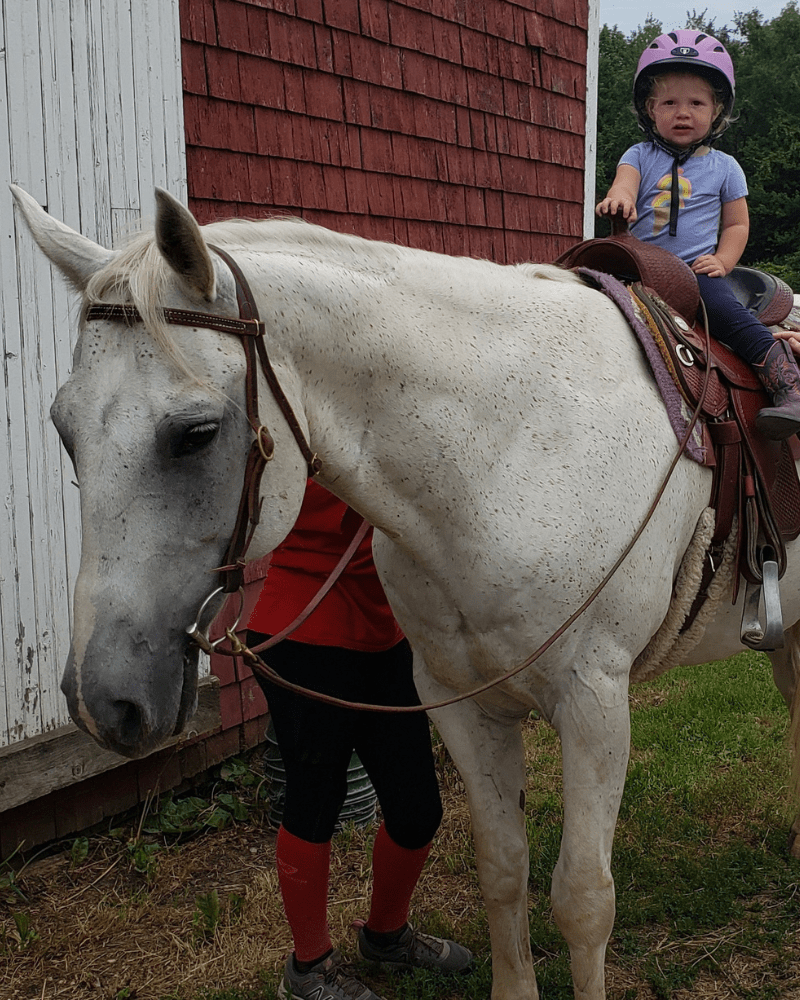 Saxon Leo - "Charlie"
Charlie is a 15.3h, 20 yo AQHA gelding. He is part of Emily's personal collection for friends and family to enjoy on trail rides, but he also pinch hits in the lesson and camp program. He is a good old ranch horse from out west who is happy to work a cow or ride english or western in the arena or down the trail. A summer camp favorite, he's willing to be painted by a crew of little people, be scrubbed with soap by that same crew, and then go teach someone how to canter. He has also been in the AAA magazine as a picture perfect skijor mount! We love Charlie. Charlie is not available for lease.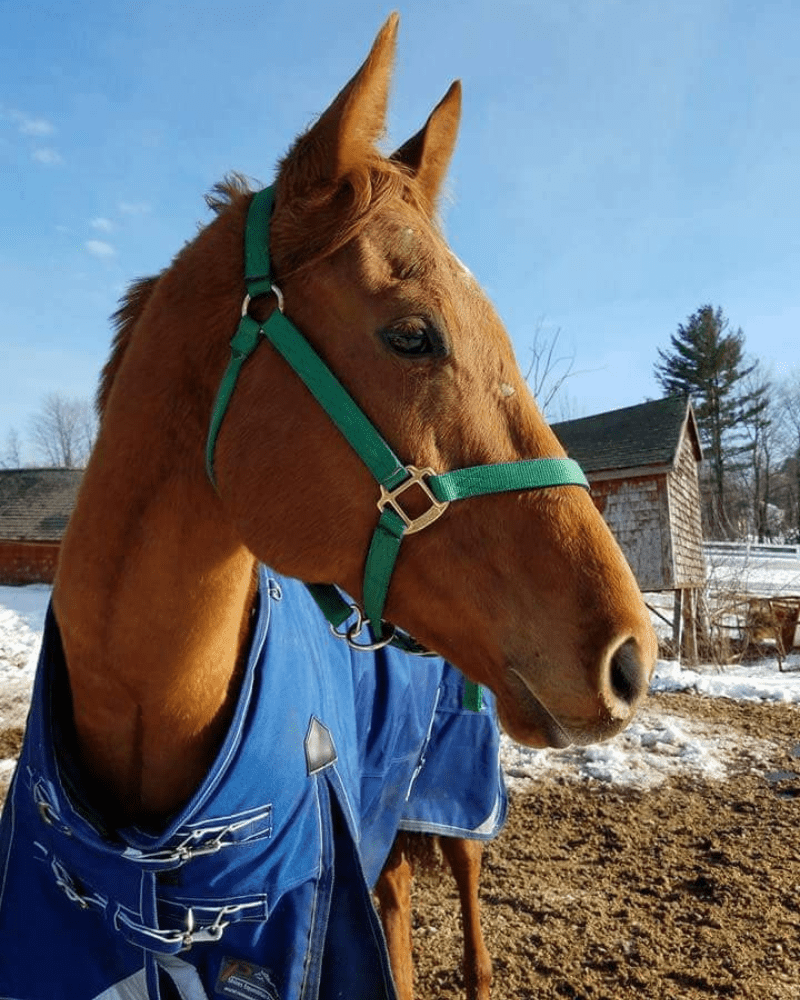 Fond of Candy- "Larry"
Larry is a 17h, 12 yo OTTB gelding and he is an elegant and gentle mount for a variety of our riders. Steady, quiet, and with a rolling canter stride to go with his 17h, everyone who rides him loves Larry. He has show miles to 2'3 and is a good all around guy. Larry is currently half-leased by Julia and is available to be shared with another half lease rider.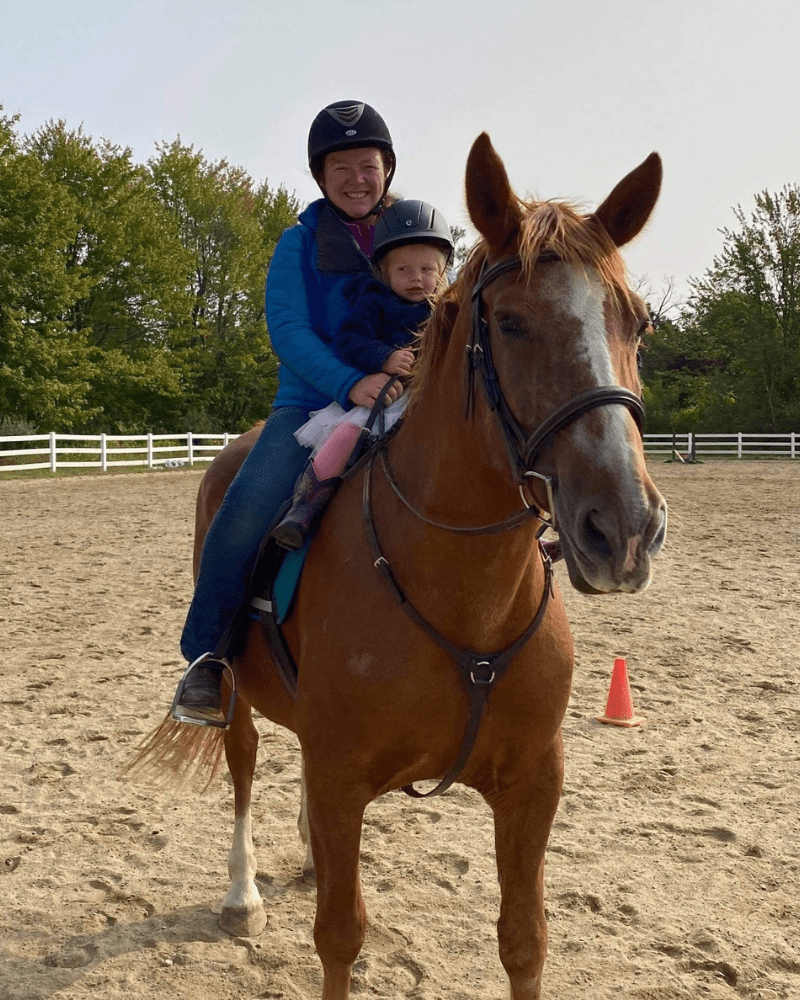 Personal Trainer- "Timmy"
Timmy started as Emily's personal gelding and her niece, Sophie, rode him for a season as well. He is an approx 15.2h, 16 yo draft cross gelding. He has a background doing IEA and therapy programs and he is fun to ride both on the flat and over fences taking home a blue in the 2'3 jumpers with Reece aboard summer 2022! Timmy goes to summer camp mid-June through mid-August, but he is available for half lease during the school year.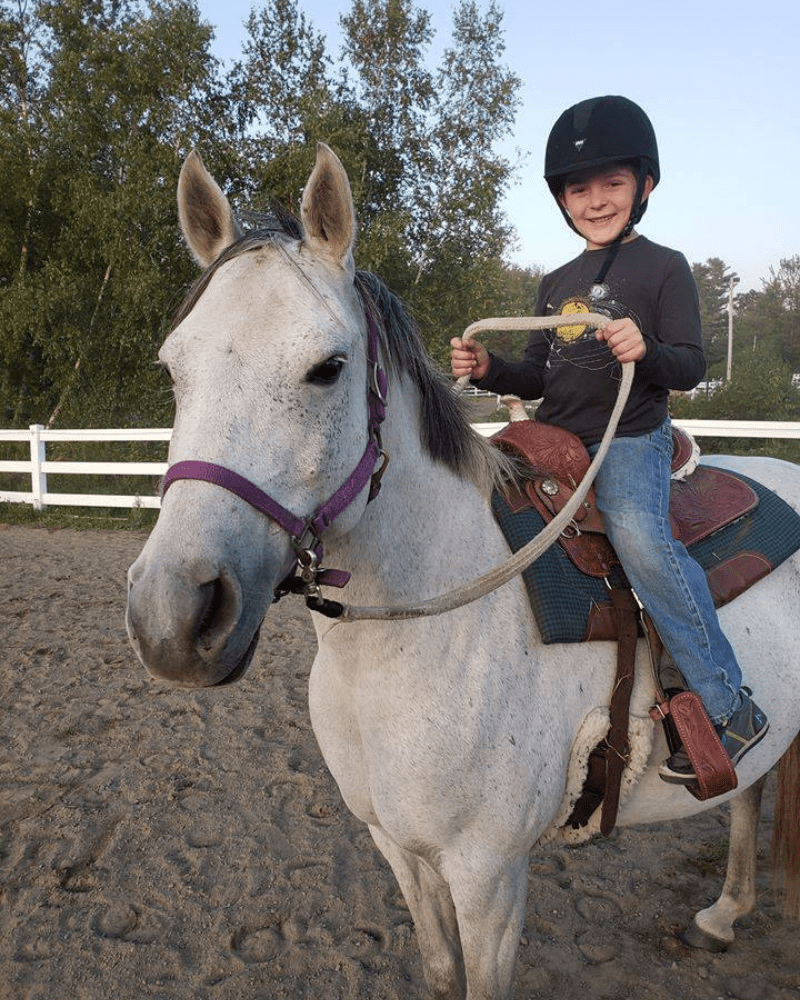 Pixie Stix - "Pixie"
Pixie is a 16 yo, medium gray pony mare. She is a super star for the up downs at summer camp learning the walk/trot ropes and she also has a really cute canter and jump for the more advanced kids. She was Elliott's first pony and she has also worked at some other summer camps in Maine. She is available for half lease.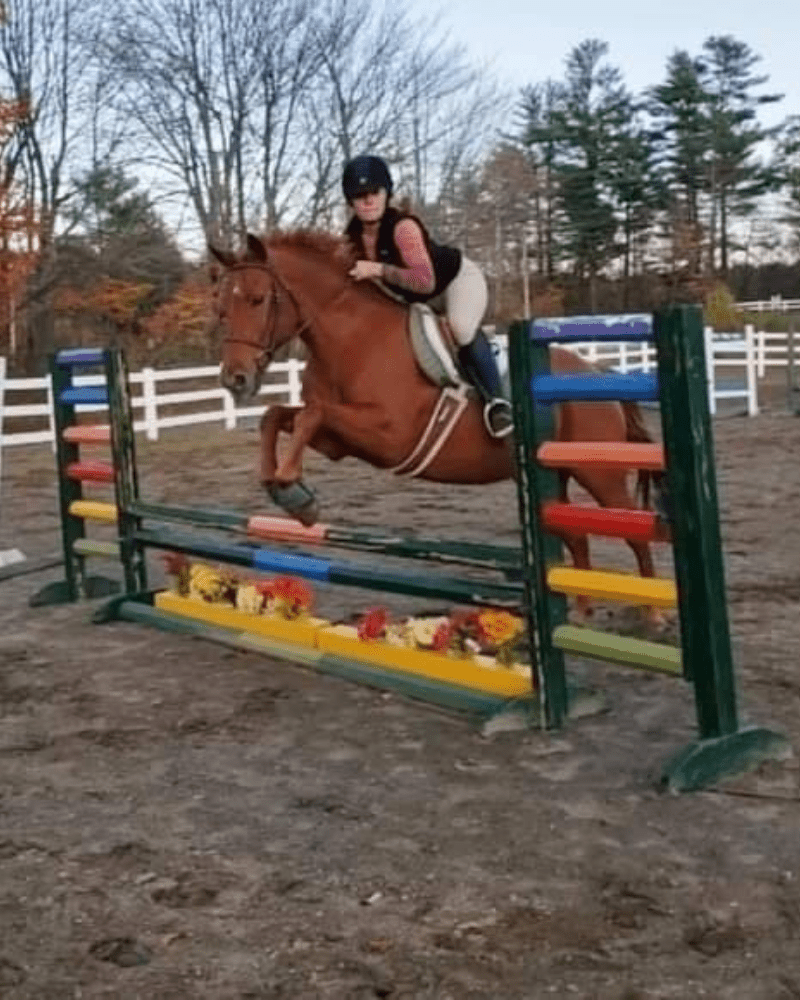 IHOP - "Waffles"
Waffles is a cute as a button 14 year old large pony gelding (although don't tell him he's a pony because he is certain he is a big horse) who splits time between summer camp at Camp Laurel and being part of the Colby Equestrian program. Great on trails and at the beach. Waffles is available for half lease during the school year.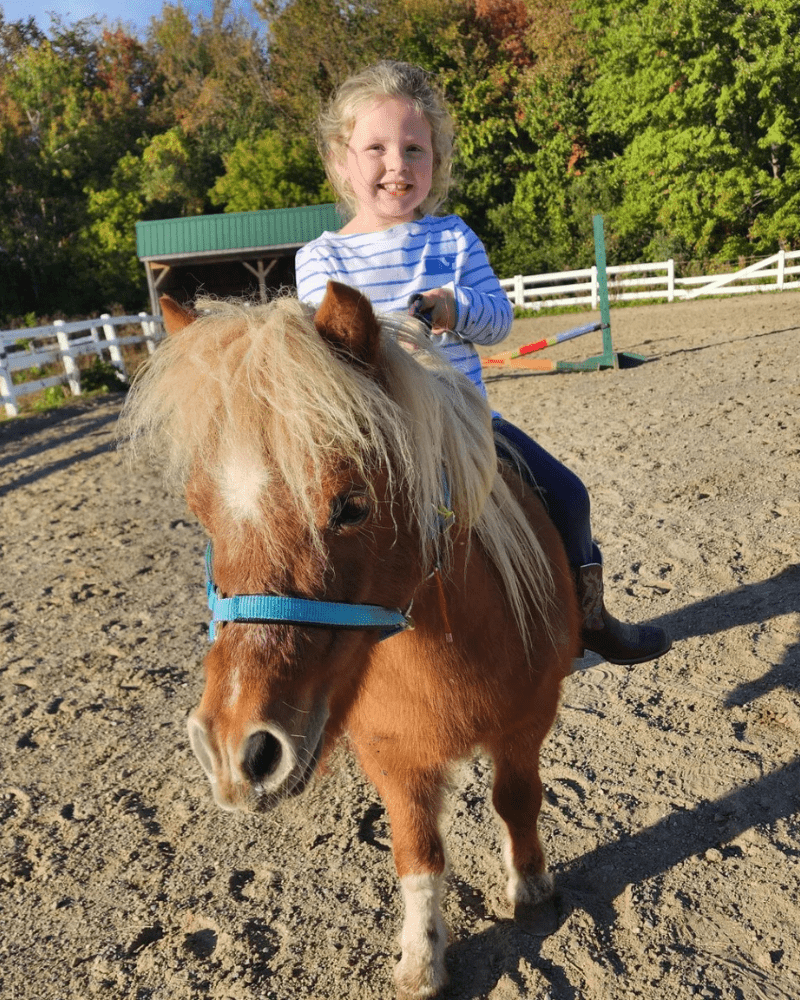 Willy
Willy is the best mini in all the land and has been a resident at Lupine since the pandemic started although he has been in the family longer than that. He is 19 years young. He rides and drives and makes appearances at camp and in driving lessons on occasion.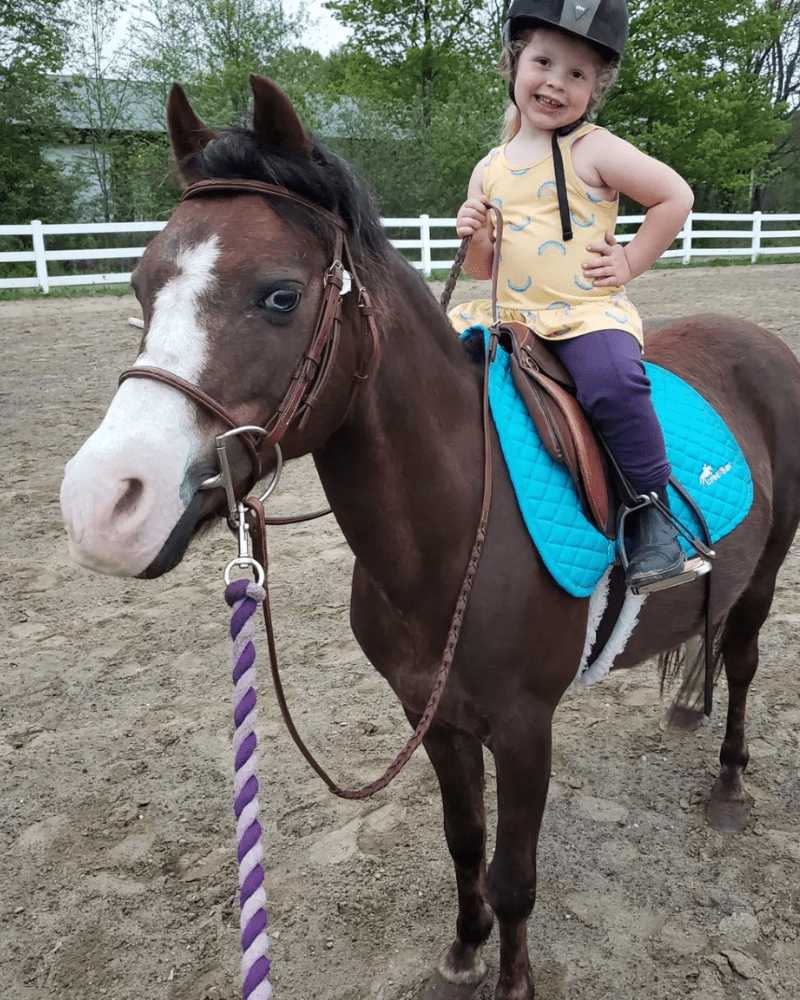 Princess Cupcake - "Cupcake"
Cupcake is a medium, 21 year old pony mare. She and Maggie are leadline buddies and she also works for camp and lessons. Just try not to squeal when she looks at you because her little pony face is JUST SO CUTE!!!! Cupcake is available for lease.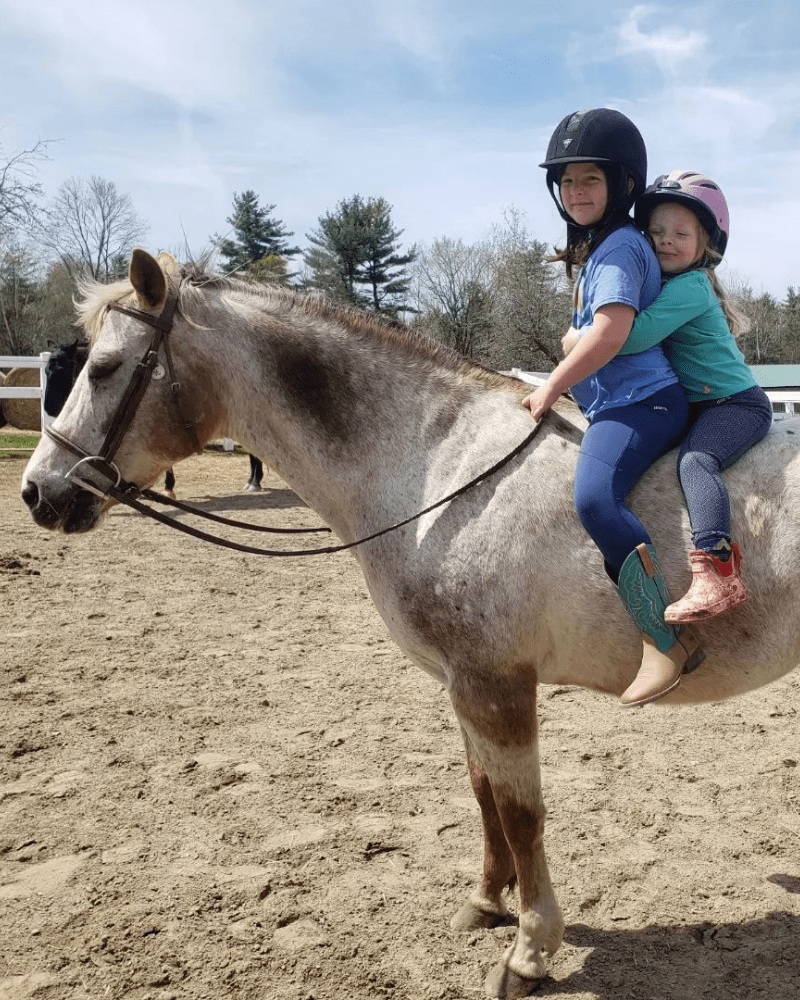 Chocolate Chip Muffin - "Muffin"
Muffin is a 17 year old POA large pony mare. She is an absolute peach and a farm favorite. Quiet enough for the newest riders, but also game to go jump an 18" course once her rider is ready for more. Muffin is available for half lease.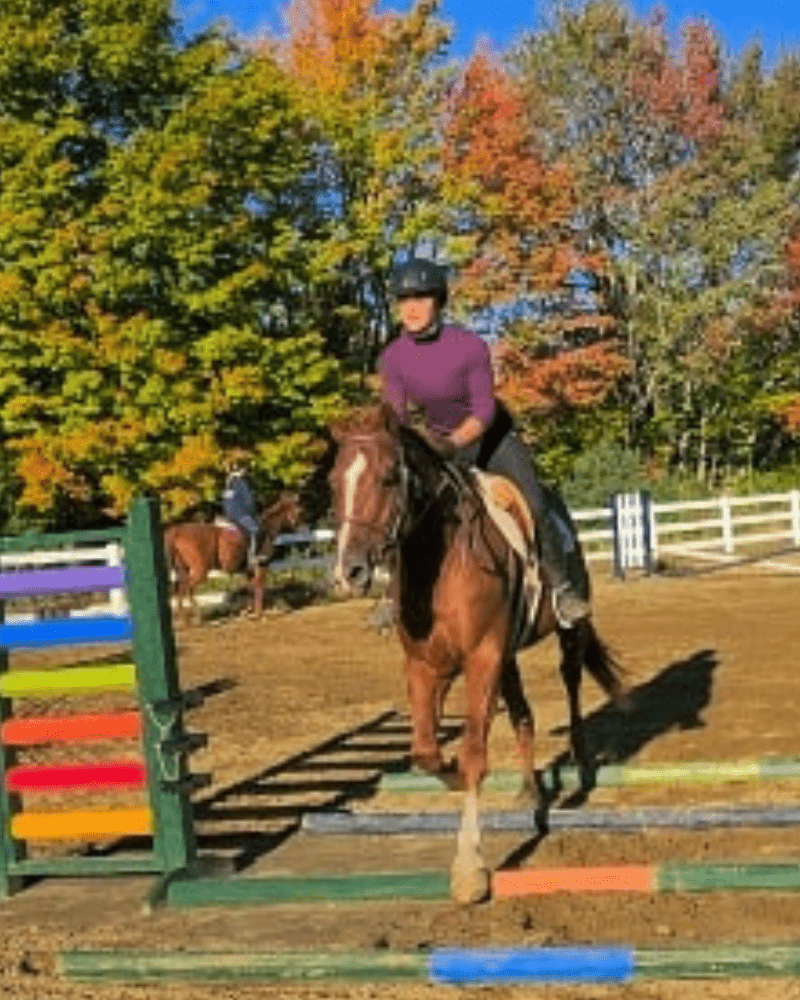 Jack Daniels Rocks - "Jacky"
Jacky is a 16h, 16 yo AQHA gelding. He joined our lesson program fall of 2022 and worked well for many of our Colby students. He goes to a girls camp in NH for the summer, but is available for half lease during the school year.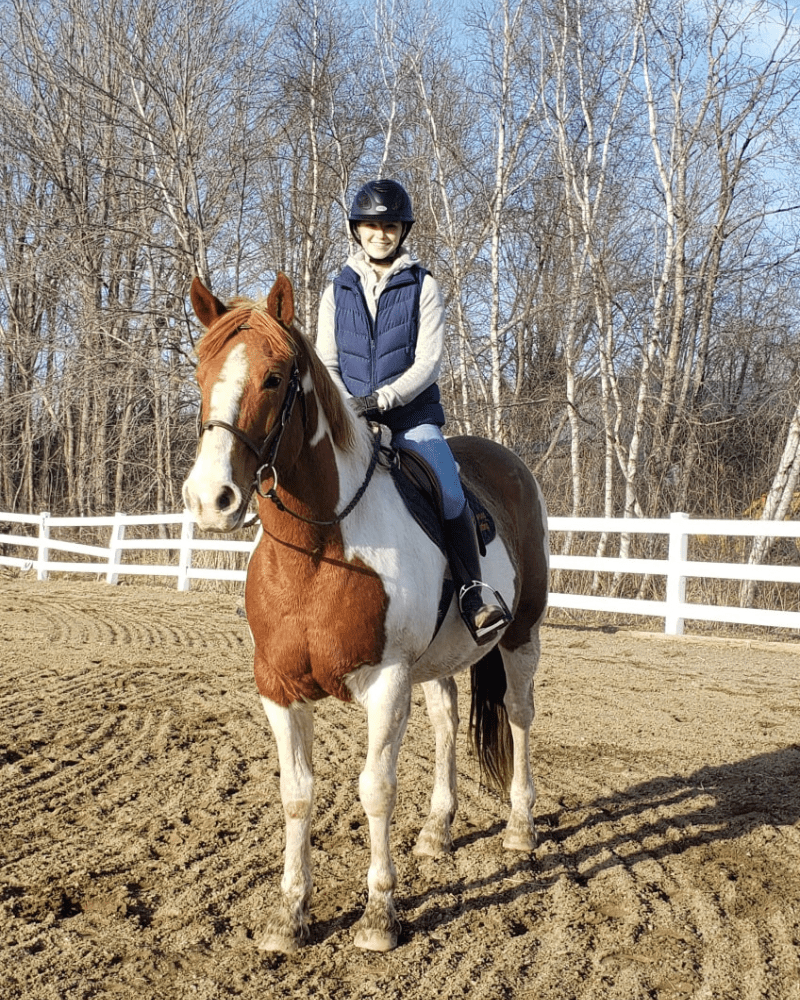 Song of the South - " Moonpie"
Moonpie is a 19 yo, approx 16h draft cross gelding. Moonpie has become one of the favorite lesson horses over the past couple of years since his arrival. He is a stout pinto with three really comfortable gaits and an easy going disposition. He rides both english and western, jumps, and is an excellent teacher. He is also rock solid on trails. Moonpie is available for half lease.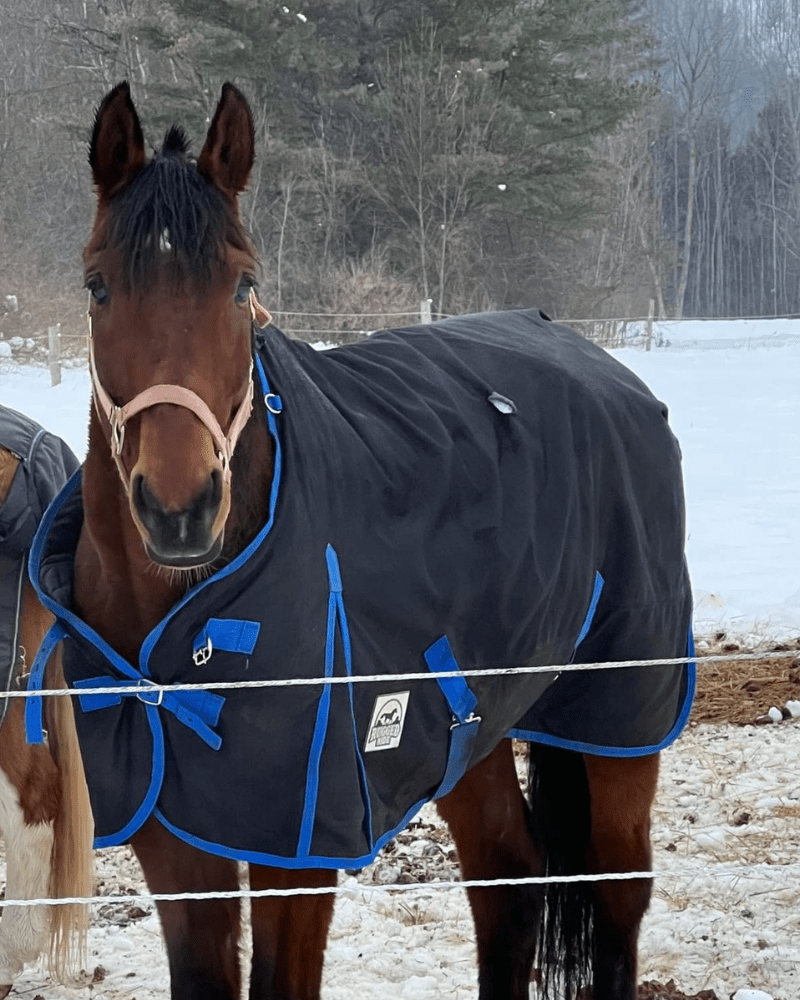 Winsome's Chill Out - "Chili"
Chili is a 17h, 19yo dutch harness horse cross gelding. Chili is a seasoned hunter with show miles and the 1st 2023 addition to the lesson program! He is a nice walk, trot, canter, jump kind of guy and we look forward to getting to know him. He is available for lease.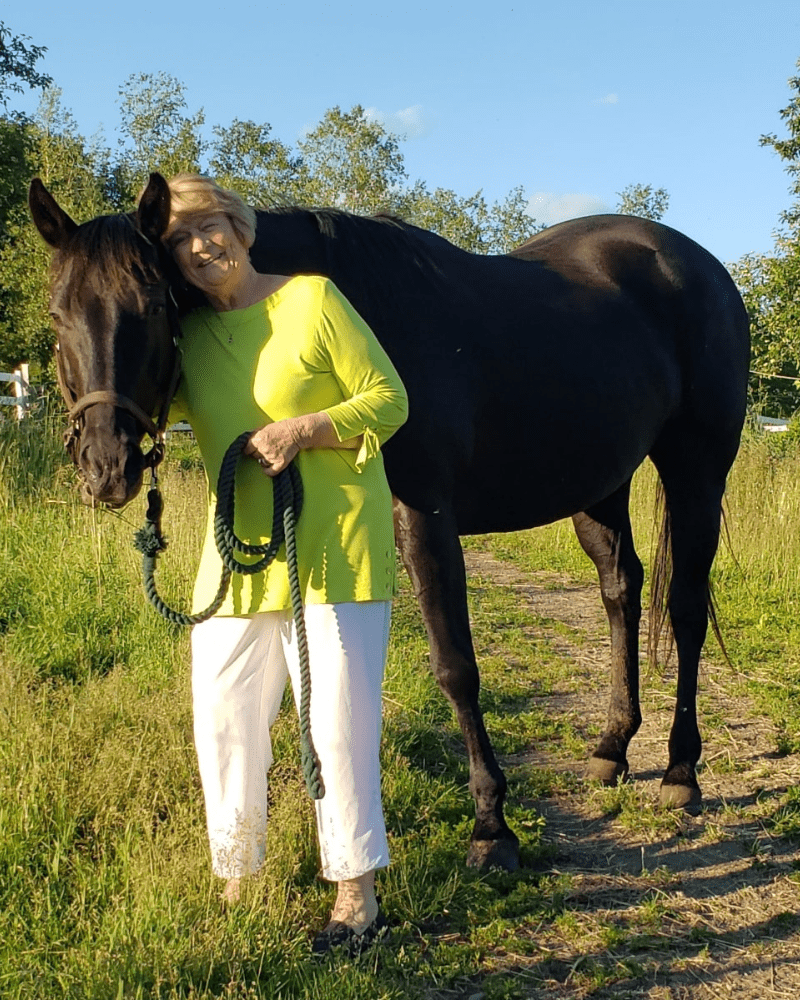 JJ Biggles Blackworth - "Judge"
Judge is Mimi's gorgeous 16h, black QH gelding, Judge is just the bees knees. He is as kind as they come and a cadillac of a ride. Mimi let's Emily ride him for her to keep him fit and busy and we're sure all three kids will be gunning for him before long. He is great on trails and at the beach, too. Judge is not available for lessons or lease.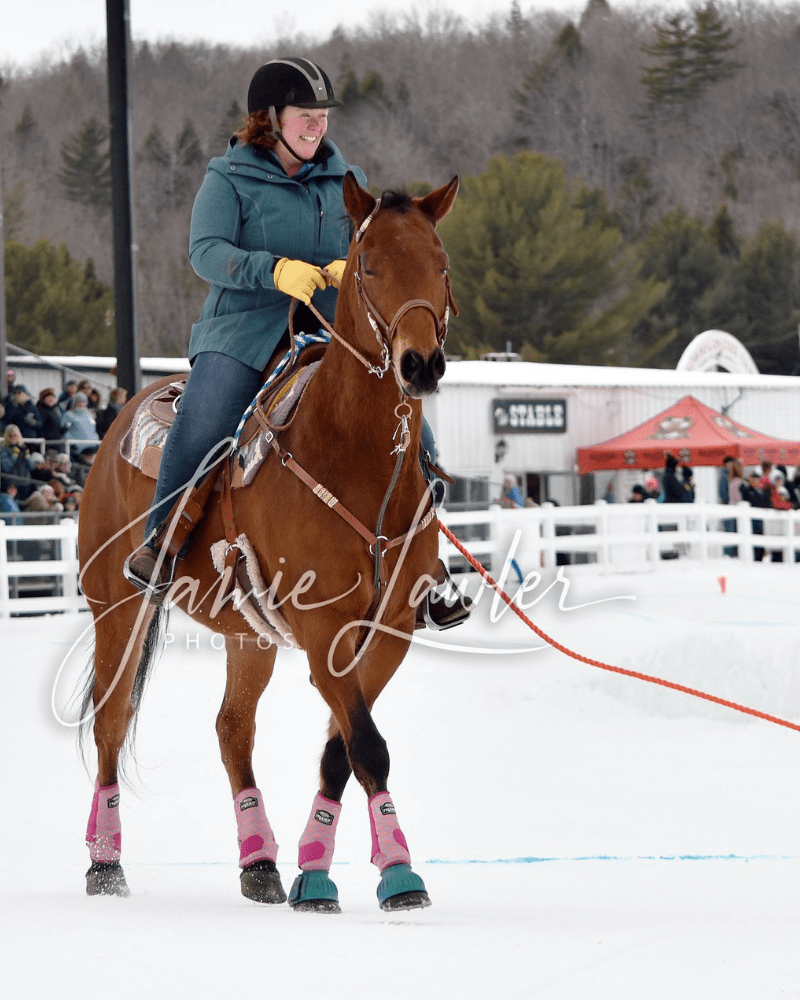 Bailey's Irish- "Bailey"
Bailey is a 15.1h, 17 year old bay grade gelding. He started as Mimi's horse, spent some time babysitting Willa through leadline and walk-trot, did a lot of Lupine lessons, and now is Emily's number one work mount at Hemphill's staying busy trail riding and filming sales videos. He is a veteran of skijoring and made an appearance with Remmie and Cody on Maine Cabinmasters in May of 2020. He is not available for lessons or for lease.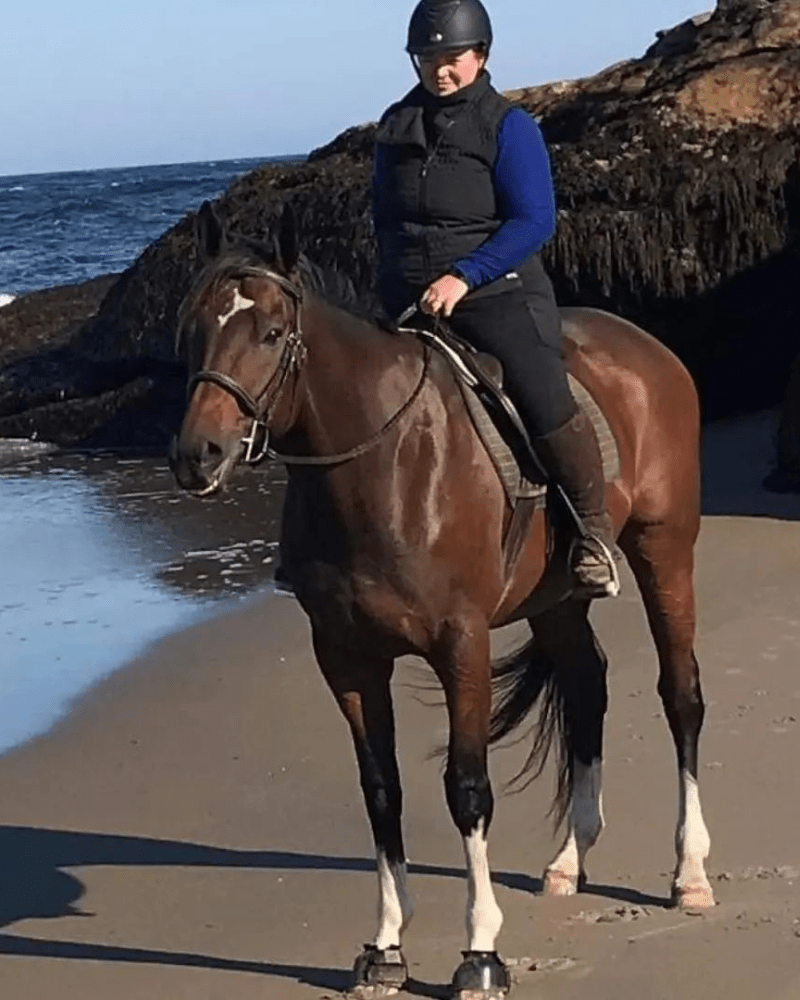 Lemonade Joe - "Captain"
Captain is Em's new TB gelding and her first non-chestnut personal horse in a LONG time. He is a 17h, 9 yo insanely photogenic, totally goofy, and very fun to ride big guy and has inspired Emily to get back in her hunt seat tack again as many days as she can since he arrived in October. He also takes up a lot of space in her phone's photo album. Thank you, Jess! He is not available for lessons or lease.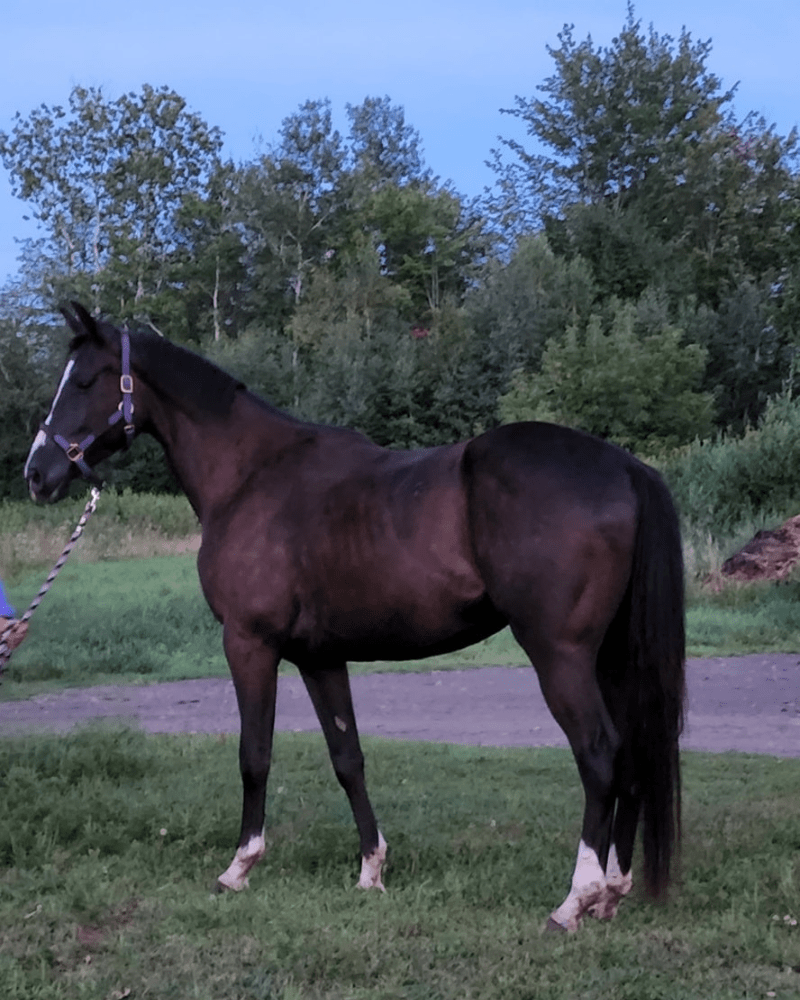 Party After Dark - "Doogie"
Doogie is a 15.2h, 4 yo appendix QH gelding and Elliott hopes to grow into him when he graduates from ponies. He is one handsome and nice minded youngster started by former student, Taylor Thayer, and he is working quietly walk, trot, canter, and starting over fences. He is not available for lessons, but he IS available for lease to someone who could help us further his education and get him some good miles as he grows up.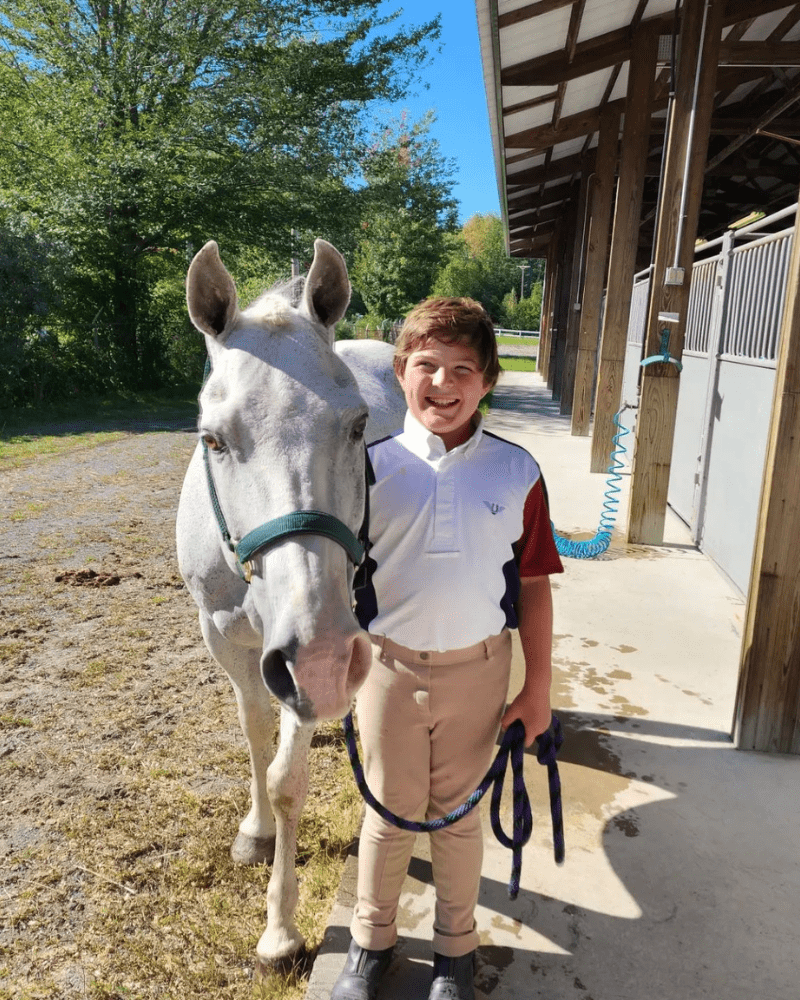 Kevin the Minion - "Minion"
Minion is Elliott's 14 yo large pony gelding and he joined our family mid-summer 2022 and fit right into the show team. He jumps a 10 with seasoned riders, but rocks the walk-trot and walk-trot poles staying cool as a cucumber even in the scary Skowhegan indoor. Minion is sometimes used in lessons, but he is not available for lease.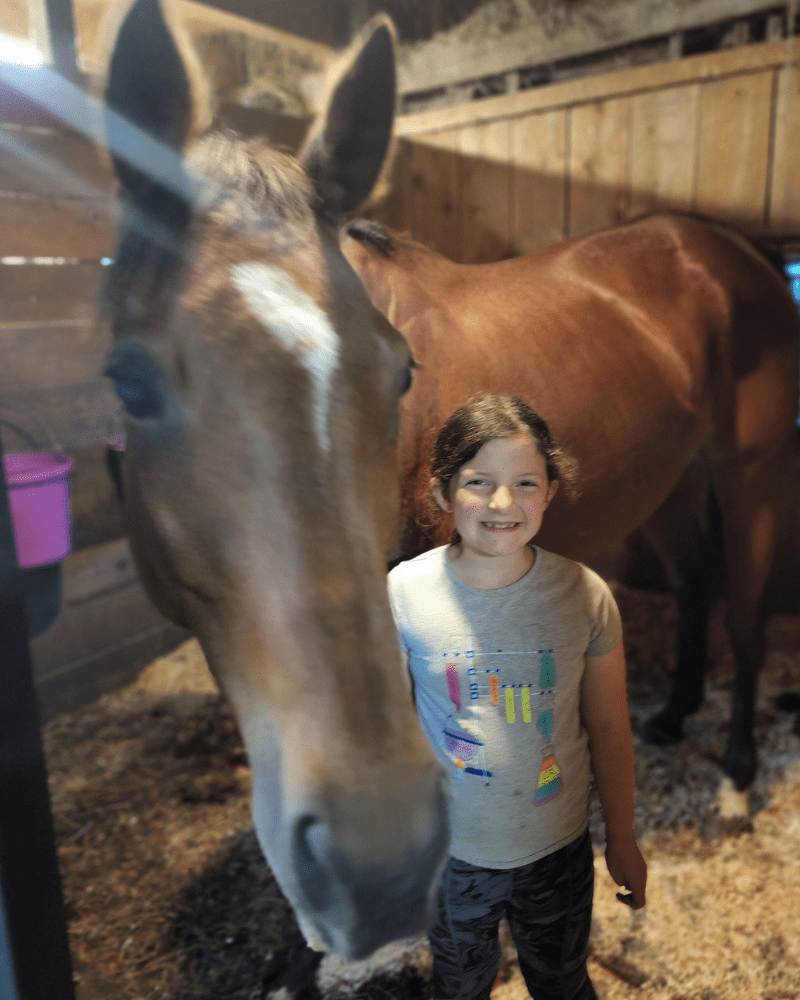 Je M'apelle Francine - "Francine"
Francine is a 15h, 23 year old ottb mare and she is a doll for her small jockey, Willa. She came to Lupine to join the lesson herd spring of 2022, but Willa quickly clicked with her and they enjoyed a full show season finishing as Reserve Champion Walk-Trot with Maine Horse Association. Francine is sometimes used in lessons, but she is not available for lease.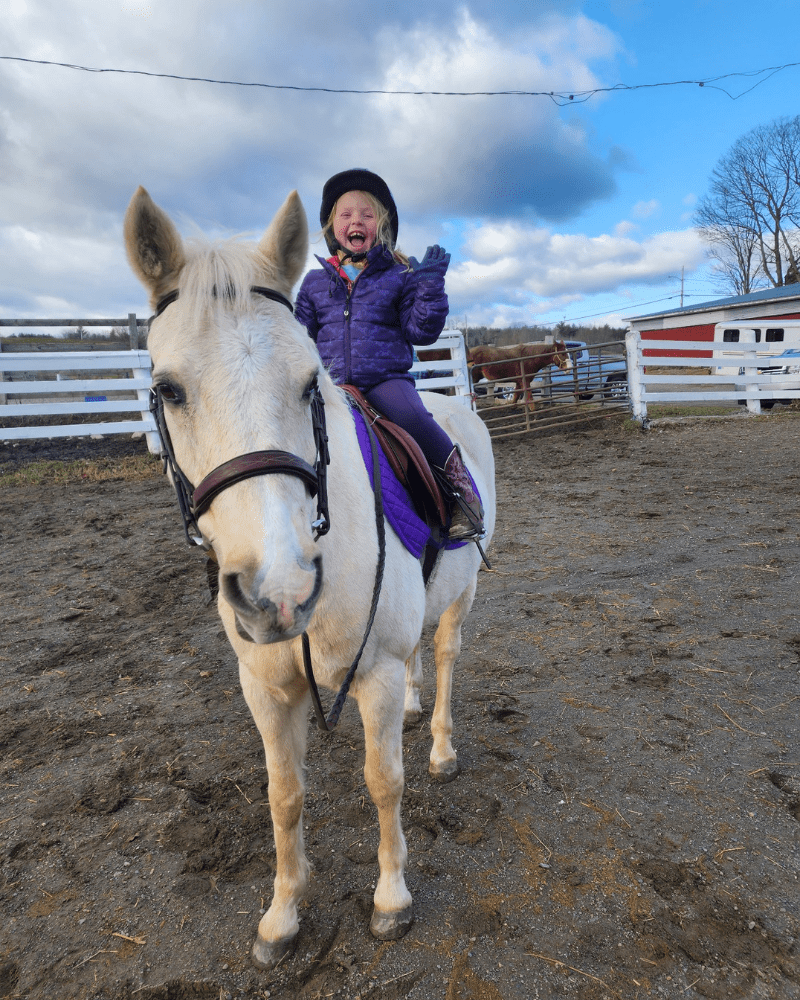 Sunny Days - "Sunny"
Sunny still belongs to the Pilley family, but Maggie is the lucky kiddo who gets to lease this 14 year old, palomino golden boy of a pony this year! He has done literally everything from parades to medals to hunter derbies on the A circuit and done it all well. Maggie is having fun getting to know him this winter at the store before he moves home in the spring. He is not available for lessons or lease.
Get more information on upcoming lessons, camps, clinics, leasing, and boarding opportunities.  Browse our current offerings and see what might be the best fit for your needs or level of ability. Don't miss the next opportunity to spend some time with our wonderful horses.